Way, way back when
when I was a few feet shorter
and a few years younger
with buck teeth, pigtails
and one teacher all day long,
I had a friend who would choose a seat next to me
every day
in the big, noisy lunchroom
and every day after I ate my peanut butter
or bologna sandwich,
we would walk outside together
and loiter near the school
and watch the crazy boys running for their lives
until the very moment recess ended
and every day
while we stood there,
my friend would treat herself to
one sacred piece
of the latest-brand-new-mind-blowingly-amazing-super-soft gum.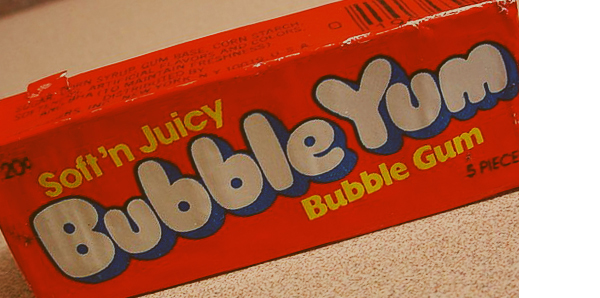 And every day,
I would watch her
and pitifully wish that I had
my own piece
of that latest-brand-new-mind-blowingly-amazing-super-soft gum,
which I never did
because at my house we weren't allowed
sugar cereal
(unless we were camping),
much less sugar gum.
But every once in a while,
and definitely more often than I deserved,
this kind friend of mine would ask me
if I would like a piece of
her Bubble Yum.
And I so very much did.
And she so very sacrificially shared one with me.
Which made me feel so very happy inside.
And so today, when I received
a mystery package in the mail
addressed to me
with no note
and no name
and no nothing inside except this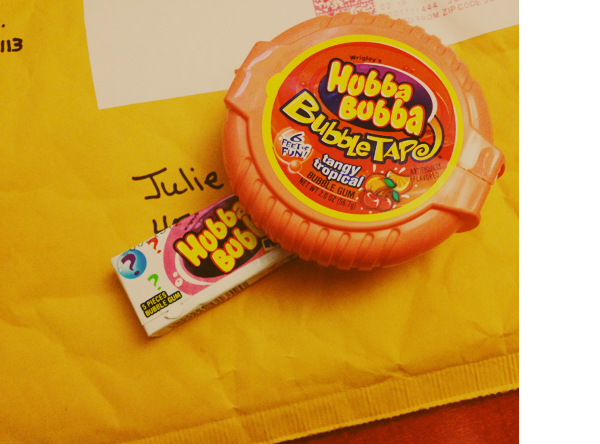 I wondered…
Do I have a really, really odd stalker?
Or a really, really sweet friend?
And, thanks to the magic of reverse address lookups,
I'm pretty sure I know.
HOW AWESOME IS THAT?!!
Thank you, sweet Amy! You just blessed me again. I'm laughing, I'm smiling, I'm loving it. And, three decades later, you still totally rock!!!!
 by julie rybarczyk