The heat index is rising up here in the loft office.
Which I much, much prefer to the winter alternative, when I'm forced to wear fingerless gloves and scarves and hats and four layers of sweaters for months on end.
Except that…
I've got this somewhat-confused heat-handling system in this crazy self of mine and, instead of making me sweat, all this warmth makes me want to curl up and take a nap.
Or five.
Which might be fine if I wasn't a full-time freelance copywriter with work. to. do!!
But that's not the worst of it. Now there's another symptom too. For all of you Dr. Brad fans, here's a juicy one for you. Apparently the heat is whacking out my hypothalamus, which is sending me the signal that I'm ravenously (RAVENOUSLY!! GET ME A HAMBURGER AND FRIES!! AND A WHOLE BOWL OF BUTTERED POPCORN!! AND THREE MORE MOJO BARS BEFORE I PASS OUT FROM HUNGER!!) hungry.
Nonstop.
Even 30 seconds after I've just eaten.
When I'm clearly not ravenously hungry.
Oh my gosh, uncomfortable! And dangerous. I could eat us out of house and home – and turn myself into a bouncing beach ball of overeating.
So, in order to cool my starving/sleepy self down a bit, I got out the drill, the pliers, and assorted other tools to finally get my cute retro-ish fan (from Target) to actually work. Yes, I have other fans, but I've had a feeling that the placement and power of this one would make a big difference if I could ever get the dang thing working. Its cord has been trapped behind my screwed-to-the-wall office lockers for a year or two and it required quite a bit of disassembly and removal of stripped screws and general handiwomanness to retrieve.
But I did it!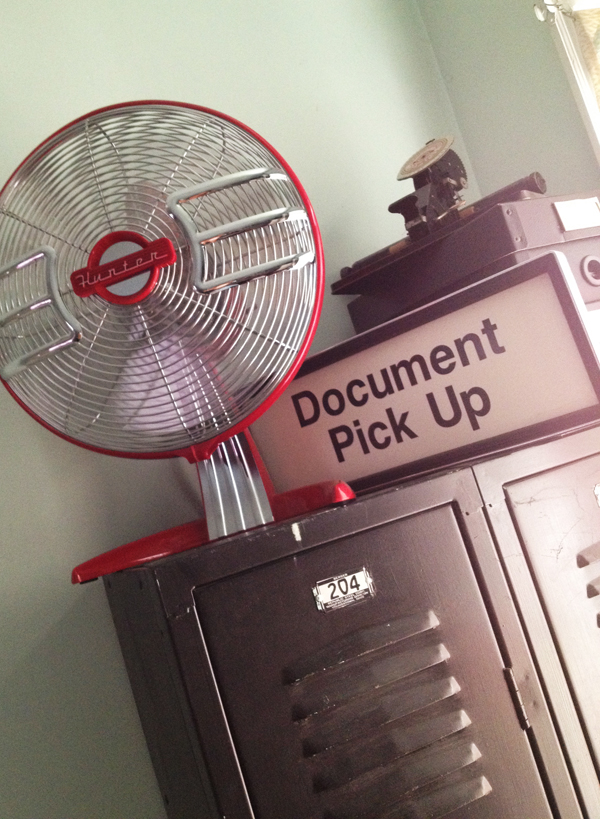 And now the air is moving around the ceiling of the loft.
And I am so much cooler.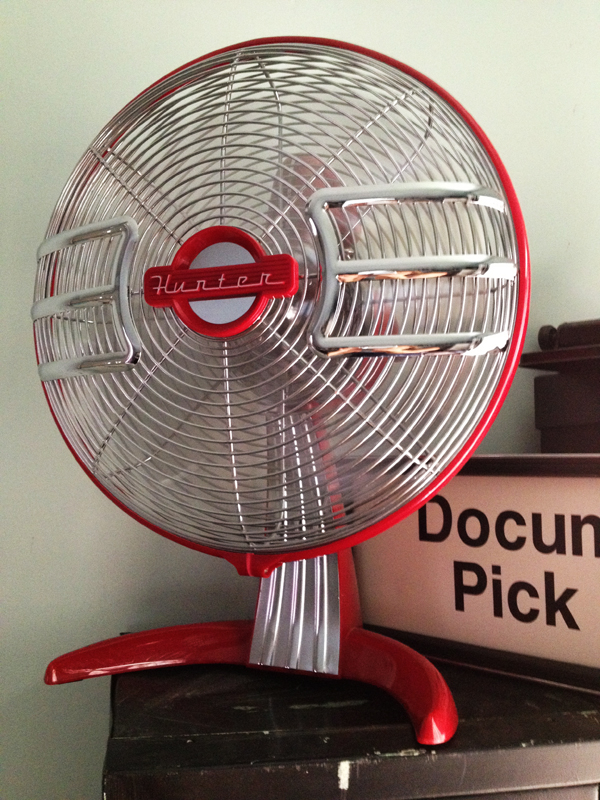 In a couple senses of the word, of course.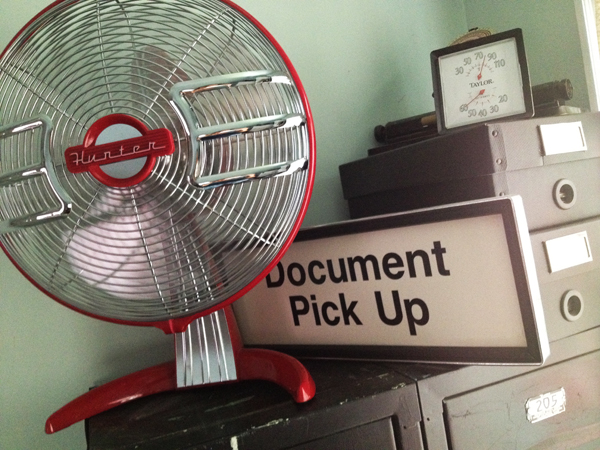 Although, still a bit warm.
Snack, anyone?
by julie rybarczyk