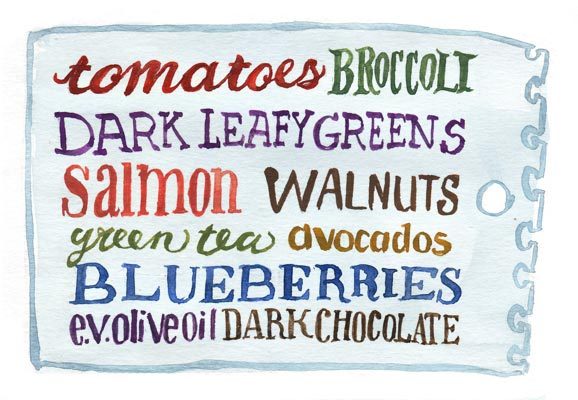 I'm feeling kinda great about this list I just found on the GOOD blog. Even though it's called "The 10 Best Foods for Your Looks" I'm figuring if these things are good for my looks, they're probably just good for me in general, right? And, hey, if I can look better and be healthier at the same time, I'll take it.
The best part is it just so happens several of my favorite faves are on this list—including avocados, olive oil, and dark chocolate, each of which I eat almost daily. My dark-leafy-green-of-the-moment is buttered and salted kale (boiled until it's bright green). I love it so much I have even chosen a bowl of that over buttered and salted popcorn a few times. (I know. Weird!) And blueberries? Salmon? Tomatoes (salsa, baby)? Come on! It's like all the things I already crave are on this list.
If only french fries were too.
By the way, this GOOD blog post was written by Siobhan O'Connor, whose new book I'm totally checking out (even though it scares me a bit): No More Dirty Looks: The Truth About Your Beauty Products and the Ultimate Guide to Safe and Clean Cosmetics. It's a topic that's been very on my mind lately, and I just received my first "organic/green" face cream from SkinStore.com today. I'm super curious to see how it works…
Here's to eating well—and looking better!
by julie rybarczyk