Saturday morning R-kids and I hopped on our bikes waaaaaay earlier than I ever get up on a Saturday morning unless it's for something as invigorating as our annual neighborhood garage sale blitz. Eighty-four garage sales within walking distance. A veritable garage-sale shopping mall. The same garage sale extravaganza that brought me my pink stove and fridge five years ago. The same one where Heather found my office desks (vintage restaurant table tops) four years ago. And besides all the great finds, every year includes plenty of run-ins with neighbors and friends I rarely see. This year I even ran into one of my clients. I had no idea she lived in this neighborhood!
Here are some of the other things I found as we walked up and down the alleys around here: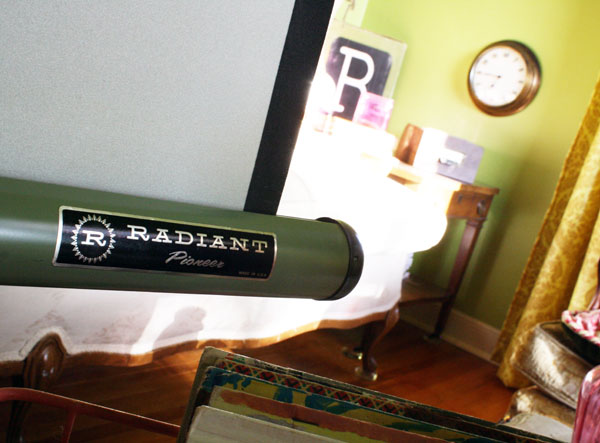 vintage film screen: $5
Can you believe I didn't even notice the 'R' logo until I took this photo? By the way, I found that vintage typewriter box (in the background) at these same garage sales a couple years ago. I mystified the sweet old lady who was selling it when I told her I just wanted to buy the box without the typewriter that was in it. Then I used that 'R' for a hanging sign on our house. Oh, and why do I need a film screen? One never knows…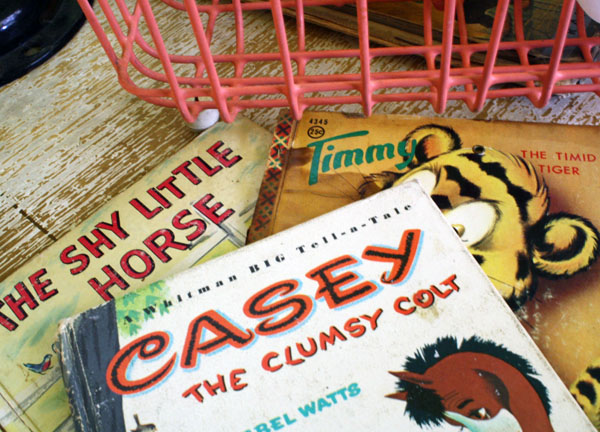 five vintage children's books: 30¢
What's with the theme of these book titles?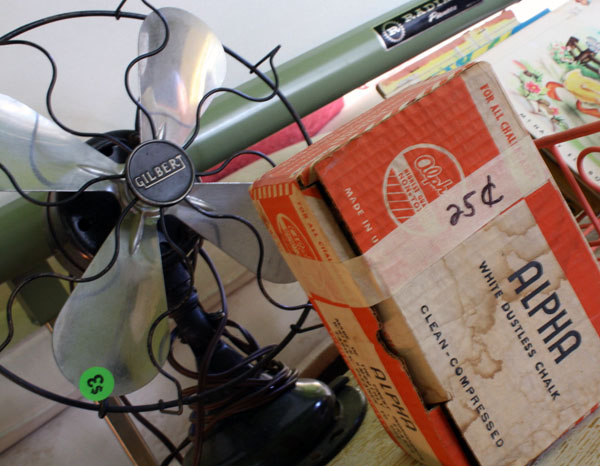 vintage fan: $3
vintage package (still full) of chalk: 12.5¢
Yes the fan works. Trust me, it will only be on when no children are within sight! And yes the chalk box was half price by the time I found it at the church garage sale.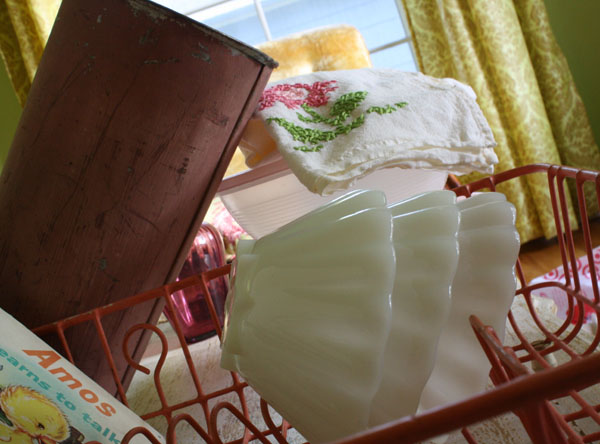 A pile of pink and white goodies: $4.50 total
A friend has raved to me about church garage sales so I made sure to hit this one a few blocks away. Sure enough, I left with an armload of goodies including the milk-glass bowls and pink dish rack for $1.50 total. TOTAL. On my way out, I perused the confirmation graduation photos lining the halls of their church basement. The photos began in 1920ish. Fascinating.
That was just the beginning. I also found a pile of six wardrobe-refreshing designer shirts for $4.50 total. New (old) CDs to download onto my iPhone. Some roasted corn on the cob. Donuts for the kids. And I always buy some perennials, annuals, and vegetable plants for the yard. I'm all stocked up.
Oh how I love thee, garage sale day.
Until next year…!
by julie rybarczyk